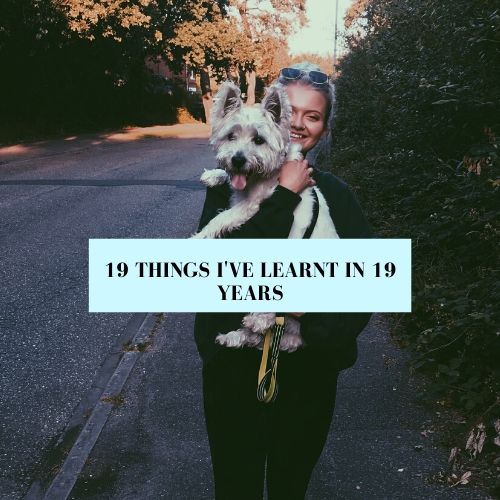 Besides learning the obvious things that every functioning human being should know, these are 19 more obscure things I've learnt in 19 years.
1.Do not beat yourself up over things you didn't do as well as you'd hoped or shouldn't have done at all. Being angry at yourself will not change anything, just embrace the mistake and learn from it.
2. There is more to life than other people's opinions.
3. Do not speak to yourself in a way that you would not accept from others. You are the only person you have to spend the rest of your life with, so why don't you start loving yourself in such a way that other people know what you expect from them. In the words of the great RuPaul, "If you can't love yourself how the hell you gonna love somebody else."
4. Not everyone suits the education system and that's okay. Don't let this stop you from harnassing your potential, you'll find your place.
5.Hold on to good friends, whilst continuing to make new ones. The people you surround yourself with is so important, they'll either tear you down or give you the push you need. Same goes for romantic relationships, be with someone that supports your ambitions.
6.Days off are necessary – we're blood and bones, not cogs and circuit boards. Sometimes what you need is to put your work away, have a nap and go for a walk.
7. Tell the people you love, regularly that you love them. Our family has had its fair share of health scares, life is very unpredictable so appreciate people whilst you have them.
8. Stroke all dogs, every single one (Unless otherwise instructed by the owner).
9. Your appearance does not equate to your capabilities in other areas of your life. If you don't want to wear make up, don't.
10. Cry often by yourself, with other people, at films – It doesn't matter just empty those tear ducts.
11. Laugh loudly at least once a day.
12. Compliment others
13.Be in the moment, it is easy to become swept up in life. But when you hone in and focus on just being present, you'll be living in that moment whilst you make it a memory.
14. If everyone likes you then you're doing something wrong.
15. Leap at opportunities, if not you'll remain stagnant.
16.Be inquisitive – Always question everything. In a world where we tend to take everything at face value, it's important we get down to the nitty-gritty truth of matters. But also, ask people silly questions.
17. Gin is good for you – health wise maybe not but I've always had a great time when gin has been consumed.
18.Making yourself proud is important – celebrate big and small achievements.
19. Take photos of everything.