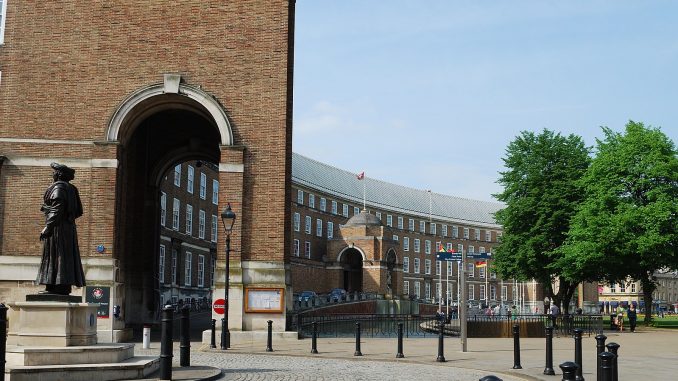 Bristol City Council Offices. Image credit: Wikimedia Commons
Earlier this year, Bristol City Council debated approving a new policy that would reduce the city's two adult sexual entertainment venues (SEV) to zero. Multiple online sources define SEVs as 'any premises at which a live display of nudity or live performance which is intended to stimulate sexual activity is provided before a live audience for the financial gain of the organiser or entertainer.' 2021 wasn't the first time Bristol's relationship with this type of venue had come into question.
In 2018, Avon and Somerset's police and crime commissioner, Sue Mountstevens joined Bristol West MP Thangam Debbonaire in opposing the relicensing of Central Chambers and Urban Tiger. Mountstevens and Debbonaire weren't and aren't alone in their dislike of SEVs. Three years later as public consultation is underway, the Bristol Women's Commission are resolutely in favour of banning these types of venues.
An ITV online article, described this debate as between "those fighting for female empowerment, while on the opposing side are those battling for gender equality. The Bristol Women's Commission believe these venues perpetuate and profit from "harmful sexist attitudes…and sadly do, lead to violence against women."
Bristol's Liberal Democrats took to their blog to tear down the justification that SEVs hinder women's safety, instead of deeming that these ideals contribute to the objectification of women.
Amélie, an Urban Tiger employee was quoted in the blog saying "As a woman, I feel way safer working in a strip club, walking around in my underwear, than I do going out to a regular club fully dressed.
"Punishing and blaming women for men's behaviour is dangerous and is simply victim-blaming…I do not believe a nil-cap on SEVs will solve any issues regarding VAWG or women being objectified." Councillor Dr Caroline Gooch said, "…Evidence from the Avon and Somerset police illustrates that more sexual assaults occur in the main clubs in the city centre than in the SEVs. Therefore, in terms of sexual assaults, the main clubs are a considerably higher concern."
In the last few months, concerns over sexual assault and spiking within the city's main clubs have risen. Across social media and local media outlets, articles and examples have been made of spiking victims and perpetrators. Articles such as Bristol post's article 'Bristol teen recalls 'gurning and foaming at the mouth' after horror spiking incident' illustrates this.
Furthermore, publications such as The Evening Standard, Bristol 24/7, The Independent, The Tab and The Times covered spiking cases throughout Bristol.
In response, venues like The Louisiana and Kingstreet Brewhouse joined the Bristol Nights 'Bristol Rules' initiative to combat toxic attitudes to drinking and spiking. Bristol Rules is a collaboration between the city's council, universities and venues aiming to advise and support those venturing out to enjoy the "nighttime economy" (Bristol 24/7, 2021).
The project operates a six rule system – posters and 3D signage are visible throughout the city's venues and popular drinking spots. Its rules include, 'Out together, home together', 'Call it out', 'Don't be a creep', 'Respect everyone', 'Keep away from the edge and 'Take it easy'.